Hydrow Indoor Rowing Machine Review: ROW THE DROW!
Home fitness equipment is shifting to the new normal. It's the cool thing to do and it can help you achieve health goals beyond your imagination. Rowing machines used to be boring pieces of equipment with outdated "display screens." That's not the case today and HYDROW says so!
Being a boat lover for the longevity of my lifetime, I am now starting to appreciate home gym equipment that can bring me closer to the river, without actually going to the river. Can that actually happen?
The Hydrow indoor rowing machine promises to deliver a realistic approach to rowing the boat in your living room. But, is it really THAT good? And, do I need something THIS tech-savy that helps me sit, feel and become one with the river?
Introducing the HYDROW rower: Row the boat? Or ROW THE DROW?
By the time you're done reading this, you're either going to love HYDROW or you're going to run for the hills. I'm going to be very transparent on the good, the bad and the ugly. But most of all, I'm going to show you why this indoor rowing machine deserves your undivided attention.
What makes this smart indoor rower so special? How much does it cost? I know one thing - you came searching for the best hydrow indoor rower review (to improve your fitness) and I'm delivering that just like HYDROW - from the comfort of your cozy, relaxing, warm home.
Because of the world pandemic, 65% of people said working out at home during this uncertain time has been a total confidence booster. Imagine feeling great in a time of chaos and change because of working out (from home) just a few times per week.
Yes, it's true, fitness can change our mood and put us in a wonderful vibration. That's why I'm writing this detailed review today - to show everyone that the hydrow rower can provide the ultimate exercise (along with full body workouts) that can change your mental state, physique and competitive spirit.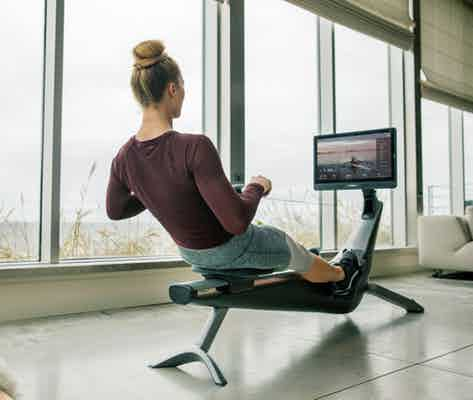 Examining the specs of hydow's smart indoor rowing machine
Just like smart homes changed the way we prepare for home security, smart fitness machines will change the way we exercise. Instead of putting on the old ear-muff headphones, hopping on the foldable indoor exercise bike and trying to get as many pedal revolutions as possible, it's now fun and exciting to row the boat amongst live teammates, coaches and competitors.
Screen Size & tech: 22" touchscreen display (1920 x 1080 HD screen resolution) with front-facing speakers and bluetooth connectivity.
Machine Size: 86"L x 25"W x 47"H.
Resistance measurements: Drag mechanism for electromagnetic resistance to bring you closer to the river.
Stroke silence: Smooth industrial-grade webbed strap - this creates smooth strokes that don't cause loud noises, so your neighbor won't be knocking on your door complaining to stop whatever it is you're doing (we've all been there before).
Roller system: 10-roller system seat (ergonomic) with extra cushion / padding for the perfect comfort during long training sessions.
Weight limit: Holds up to 375 lbs (170 kg)
What if I don't know how to "row?"
If you're a beginner rower, the hydrow will give you the confidence to row with the best of them.
Think about this:
You'll be able to learn how to row from live and on-demand rowing coaches with no one else around. That means you'll be able to make mistakes and learn from them in private - that's something to seriously consider and take advantage of.
Rowing classes (live and on-demand)
Hydrow provides professional coaching that will guide you every paddle of the way towards a fun, competitive full-body workout. In addition, they have an "extra" or "add-on" service that provides on-demand and live classes. This is an extra cost and is separate from the hydrow machine itself. We thought that was very important to know because some people think it comes with the rower, sadly it does not.
However, should you choose to purchase the subscription to their live classes, you'll benefit from comprehensive coaching, competition, and an amazing workout. Live classes are all the rage these days amongst all different kinds of workout equipment, from indoor bikes and treadmills to strength training machines and more.
Is the Hydrow right for you?
If you're looking to take your love for rowing to the next level, having access to an amazing workout and stellar experience anytime you want, from the comfort of your own home, then you're going to love the Hydrow Rower - It's truly one of the most innovative pieces of home workout equipment on the market.
Brand new to rowing? No problem! Hydrow is perfect for all fitness levels, from novice to the most experienced rowers. The live and on-demand library of classes has something for everyone and will help you to grow and progress your fitness and expertise the more you row.
Overall, this is a thoroughly impressive machine that gives you the same rush, excitement, and physical workout that you'd get if you were really out on the water. If you can't hit the water, choose Hydrow, the next best thing!